Lieutenant
Courtney St. George RNZNVR Fleet Arm NZ2583
From Napier - commenced service 2nd May 1941.
Departed N Z in the early Fleet Air Arm draft 4th May 1941
After initial naval training in the UK, he was posted for flight training with the
U.S. Navy, and commenced primary flight training at the U.S. Naval Air Station,
Pensacola Floridain January 1942.
He returned to the U.K. 21st July 1942 for operational training
as a fighter pilot. In November1942 he returned to the U.S.
for carrier flying training. Posted to H.M.S. Victorious
for service in the Pacific theatreof war in February 1943.
HMS Victorious
Returning to the U.K. on H.M.S. "Victorious" he was promoted to Lieutenant, and transferred in December
1943 to H.M.S. " Searcher" an escort carrier, for Service in the Atlantic theatre of operations.


German Pocket Battle Ship " Turpitz "
In April 1944 he was involved in operations off Norway where German convoys were attacked and the German
battleship "Tirpitz" was sunk, resulting in him receiving the award of "MID" " Mentioned in dispatches"
References to his Norwegian actions can be found in the "Official RNZ Naval War History – World War 2 page 515.
In July 1944 he took part in operations in the Medit –erranian, including the invasion of southern France
and was on active service in Europe untill the end of hostilities in 1945.


Martlet Aircraft on Victorious Flight Deck
Courtney flew Martlets, Wildcats and Seafires
( Naval version of the Spitfire ) and shared in the shooting down of
three enemy aircraft. After three months leave in New Zealand he
returned to the U.K. as an instructor at No 2 Fighter School at Henstridge.
He was discharged from the Fleet Air Arm in March 1946, and returned to New Zealand.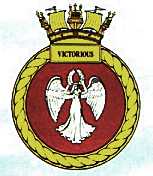 HMS Victorious Badge