Air Marshall
Sir HECTOR McGREGOR KCB CBE DSO MiD LoM
Air Marshall Sir Hector McGregor, in a distinguished 36-year career
with the Royal Air Force, achieved the highest rank
of any airman from Hawkes Bay.

His time in the RAF spanned the era from 'stringbag' biplanes to supersonic jets...
from .303 machine guns to guided missiles.
As a fledgling Pilot Officer, the first fighter he flew was the
Armstrong Whitworth Siskin III, a fabric covered bi-plane with a top speed of 141 mph.


HB Cultural Trust

Armstrong Whitworth Siskin III
As an Air Marshall, he flew the Hawker Hunter
jet fighter in supersonic flight, thereby becoming
a member of the Swept Wing Club and possessor of
a scroll saying that he
"alone and unaided splitte ye sound barrier".
Sir Hector was born in Wairoa, Hawkes Bay, and received his education as a boarder at Napier Boys High School.
One of his teachers was Mr R V deR Worker, a pilot in the Royal Flying Corps during WWI.
Although Sir Hector's initial inclination was to become a doctor, perhaps it was Rupert Worker who
encouraged him to pursue a career in military aviation.
In 1928, at the age of 18 and never having flown in an aeroplane, he was accepted as a direct entry cadet
into the RAF on a short service commission. Looking back to that time in later years he said he went to England
with an inferiority complex. "I felt I was up against something, but I soon found that New Zealanders
can compete with comfort in England." His subsequent career was testament to this.
After gaining his wings, the first flying posting was with Treble One Squadron.
Next, during the period when the Fleet Air Arm was part of the RAF, he served as a pilot with No 401
(Fleet Fighter) Flight attached to HMS Courageous. In 1932 he was granted a permanent commission and
thereafter held several engineering and staff officer jobs until appointed in 1938 as Commanding Officer
of No 33 Squadron in Egypt. In March 1939 the squadron, equipped with Gloster Gladiators, moved to Palestine
and was tasked with assisting ground forces to round up armed bands of tribesmen who were terrorising
certain areas, and was awarded the Distinguished Service Order for his leadership in these operations.
The unit then deployed to the Western Desert at the outbreak of WW2. McGregor subsequently returned
to Britain in Jan 1940 to take up a Staff role.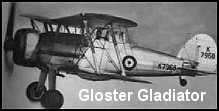 When the Germans invaded the Low Countries and France in May 1940 he did a brief conversion onto
Hurricanes at an Operational Training Unit before being appointed to command No 213 Squadron.



In the first week of June his Hurricane was badly damaged in action over Dunkirk.
He had to ditch into the sea and was rescued by an evacuation boat returning to Dover.
As the Battle of Britain gained in intensity during July and August his squadron became heavily involved
in escorting deep-sea convoys into Plymouth.
On 1 Sep 1940 he was promoted to Wing Commander and did not fly operationally again.
Wartime appointments that followed included officer commanding two RAF Stations, planning roles with
a Fighter Group and at Fighter Command and Officer Commanding Fighter Command's Tangmere Sector
(which included No's 485 and 486 [NZ] Squadrons).
After the War his career continued to advance through a broad range of roles.
Promotion to Air Marshall and appointment as
Air Officer Commander in Chief of Fighter Command followed in July 1959.
He was knighted in 1960.
Then in May 1962 he took up his final RAF appointment in Singapore as Air Officer
Commander in Chief of the Far East Air Force with responsibility for all Air Forces
in the South East Asia Treaty Organisation.

Sir Hector's first visit back to New Zealand was in 1956.
He returned again in 1962 where he was guest of honour at his old school.
There waiting to greet him was his old headmaster, MR WA Armour,
and four other teachers who had taught him,
Messrs RH Milburn, CJ Bagley, WA Stewart and RV de R Worker.
For a brief moment he was a schoolboy again, sitting at his old desk in Room 7.

As a distinguished son of Hawkes Bay he was invited to officially open the new Hawkes Bay Airport in February 1964.


HB Cultural Trust

Full Story here.
to download...
right-click and select
"save target as..." option