Acting Sub-Lieutenant
KEITH SWAILES Service No. 7798 RNZNVR

Keith was a man of many uniforms during his service life.
Beginning with the NZ Army, RNZAF, RNZNVR - HMNZS Tamiki.
Then over to the United States on Scheme F training with the US Navy.
Primary training at St Louis, Missouri, and advanced training at Pensacola, Florida,
and final training and graduation at Corpus Christi in Texas.

Keith about to take off - TBF Avenger at Crail
From the USA he was transferred
(with another Napier 'Lad' Russell Spiller ) to Crail,
South of Dundee on the East coast of Scotland with the Fleet Air Arm, Flying Barracuda's and then converting to
TBF Avengers, completing their carrier and
deck landing training on HMS Battler an escort carrier.
With the end of hostilities in Europe the British fleet was about to embark to the East,
when the war ended in the East and the Pacific.
| | | |
| --- | --- | --- |
| | | |
| Group at Crail Scotland | | Russell Spiller |
After training from 1941 to 1945 Keith had the satisfaction of 'going into action' to bomb and destroy
under operation 'Dead- Light' one of twenty German U Boats that had surrendered
and were to be scuttled off the West Coast of Ireland, at the end of the war in Europe.
Keith returned to Napier in 1945 and was a Director of a successful printing company in Napier until his retirement.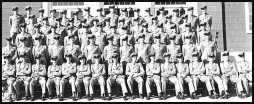 Trainee Pilots at Pensacola Florida USA.
Keith fifth from right top second row Russell Spiller bottom row second from left.
We would like to thank our member in Christchurch Dr Tom Seed for providing some material
covering Keith Swailes, Tom an X NBHS 'lad' has been keeping an eye on 'things' HB
for a number of years and provides us with info from time to time.
He was an early gliding member of the Embankment's Napier Aero Club gliding section
under Tye Husheer, back in the 1930s.