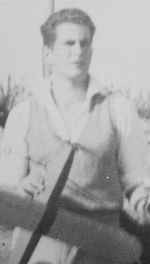 Sgt Ronald Hugh Crabtree NZ411741 RNZAF

Wireless/Op/Gunner, in a Stirling I with a crew of 7.

During a raid on Esson 16-17th Sept.1942, aircraft was apparently
damaged by flak, then fell into the Ijsselmeer, (an inland sea, north of Amsterdam).
All crew died.
Five were RNZAF and are buried at Lemmer, Holland.
The other two, (RAF), buried in Amsterdam.

Ron Crabtree was a member of the 1930s Napier Aero Club.
He was Senior Club Captain of the model flying club,
and present at the club's AGM November 25th. 1936,
along with his brother, Ken.