Rukuhia...the first taste of home for many pilots and air-crew,
returning for the last time from the Pacific Area WW2.

"Home At Last" The Rukuhia control tower.
A welcome sight for many returning for the last time from the Pacific.

1948-49. One of the views from the control tower,
when the airfield had returned to civilian life.
These F4UID Corsairs were some of the 500 aircraft on the field,
lined-up for scrapping. What would their worth be now ?
| | |
| --- | --- |
| F4UIDs - Rukuhia | P40 Kittyhawks - Rukuhia |

The civilian Air Control Officer - Rukuhia - 1948/49.
We are most interested to know his name....can someone provide?
NZ3256. P40 Kittyhawk rescued from the melting pot - to 'play with' - from over 100 others.
It would have been the last 'going' P40 in NZ at that time (1948),
having returned from action four years' previously intact.
It made its last public appearance with a run past the crowd at a Waikato Aero Club airshow
in 1949, with a "crazy" 17-year old in the cockpit, having the thrill of his life...
and still lucky to be around to write a little bit about this.
I would love to know what happened to it.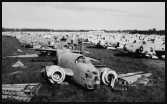 Rukuhia Airfield - South end - 1948/49
Dozens of PV1 Venturers in the process of being scrapped.
All had done WW2 service in the Pacific.
Instruments and communication equipment removed.
First offered to various government departments at £100 per ton,
balance sold by tender and auction.
The saddest sight.
A PV1 Venturer cockpit
with its "ways and means" missing.
Another sad sight.
P40 cockpit minus 'ways and means'.
P40 cockpit.
How it once looked.
STORES BOARD DISPOSALS
Our member, Max McEwan, (ex- NZ Aerial Mapping), has passed on this photo of some of the aircraft at Rukuhia. Taken shortly before they were stripped of their instruments, transceiver equipment, etc.
Along with these P40s, the Corsairs, Venturers, Hudsons and Avengers were all released by the Government Stores Board for public tender.

The radio equipment, instruments, rubber dingies and aircraft spares, (including valuable servicing tools), came up for auction at the Te Awamutu and Te Rapa RNZAF stores depot.

Attending these auctions was an unbelievable experience, with millions of pounds' worth of equipment selling at bargain prices. For example, a 5-man rubber dinghy, complete with sails, oars and survival kit, for the equivalent of $5 in today's money.A brand new pair of P40 wings, (still in packing crate)...$10.

Also available was hydraulic equipment, which was extremely useful to NZs growing farming community - adapting wheels on to farm trailers, down to a P40 tail for a whwwlbarrow.
Every part of the aircraft was soon found to be adaptable for something.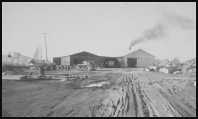 "The Furnace Building" where 500 fighters and bombers were
melted down for the duralumin ingots that helped create
many new industries and products for the NZ consumer:
washing-machine parts, frypans, tools and toys - the list is endless,
(but we could have saved a few more of these aircraft than we did).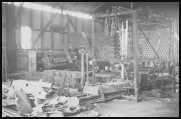 Inside...an automatic 'contraption' built completely from
aircraft parts, (the hydraulics, pumps, tubing, pressure valves etc.),
poured the melted duralumin into moulds & ingots, then
tipped them out when cooled.
These emptied moulds would then continue on,
around the circuit, to be filled again.
The creator of this unit was a Mr. Jack Kay who developed many clever ideas for other uses of the
aircraft parts. He built a microswitch-type computer to fully-automate the whole melt-down process.
A number of NZ industries moved ahead from his help.
Note the 1200hp Allison V12 engine in the background - a spare for Len Southwood's record-breaking speedboat.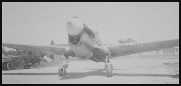 Another of Jack's skills - the day he 'wound up' a P40
after it had been stripped of instruments and sat out among
a hundred others, waiting for scrap.
A truckload of brand-new Ventura tyres
auctioned off for about £2 ($4) each.


"The Rukuhia Special"
The lots-of-fun P40.
We hope it's still around!


Brand-new, out-of-the-box prop.
Sold by tender for about $5. 1947.
Maker's plate
ex-RNZAF 4599
PVI Ventura.
Served in the
Pacific.
Scrapped
Rukuhia
1948.
Maker's plate
ex-RNZAF 5453
Corsair.
Served in the
Pacific.
Scrapped
Rukuhia
1948.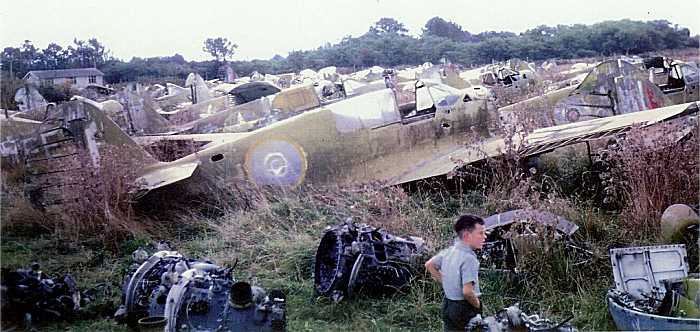 Our member Dudley Payne took this shot of these P40s at the back of Asplins Garage at
Rukuhia some years ago ( the little boy ( Dudley's son, ) is in his fifty's now, that will give
some idea how long ago ? !! ) One of these P40s has now been restored, that we know of
and we will have more details later. on what happened to the others.
With the close down of The Rukuhia Salvage Coy the balance of the aircraft on the
Rukuhia Drome were moved to the rear of Asplins Garage and created a great deal of
interest with the traveling public for some years. Other aircraft on display over that period
were a DH Vampire ( Photo next ) F4U1 Corsair ( photo next ) - Jack Asplin had a vast
collection of aircraft parts from Hudsons, Mosquito's, PV1 Ventura's, Catalina's, Handley
Page Hastings Transport aircraft, and Harvard Airframes along with sundry civil aircraft parts.