Hawkes Bay Aviation Association
Beginings
In the late 1990,s a group of aviation interested people formed in order to gather historic info, catergorsie, file, preserve and make it available to anyone interested via a website.

Our group consists of ex WW2 and Korea personnel, RNZAF, RAAF, RAF, Fleet Air Arm and US Airforce (trained) pilots and aircrew, ground crew, administration guys and gals, Aero Club trained pilots and the topdressing folk. These service personnel have served everywhere on the globe. Name any part of the world, and we have, amongst our group, someone who has been there, done a job, and tried out the local "hops".

We've been recording (Audio and Video) the experiences of local service personnel. There's also pictures from photo albums and details from diaries on this website.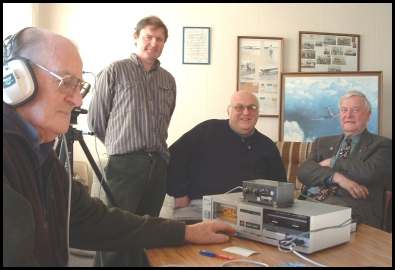 Some of our team during a recording session at one of our "get-togethers". Left To Right: Willis Dark from HB Museum of Technology (Audio), Michael Mullins from Napier Aero Club (Video), Ian Granger, President Vintage Aviation (HB) (Interviews), Cyril Whitaker, Chief Pilot (RTD) NZ Aerial Mapping (Interview)
AIRCRAFT FLOWN: Catalina, Tiger Moths, Harvards, Spitfires, Hurricanes, Stearman, Defiant, Boomerang, Kittyhawk, DH Vampire, Dakota, Fairey Swordfish, Gannet, Halifax, Typhoon, Tempest, Fury, Hunter, Mitchell, Oxford, Anson, Lancaster, Stirling, Vincent, Wellington, Corsair, Lysander, Liberator, Seafire, Wirraway, Wellington, Sunderland...to name a few.
Our collection and research work is ongoing, as is development of this site - we trust it is of value to our community and contiues to serve a useful purpose in ensuring the information contained herein is both preserved and available to anyone interested.